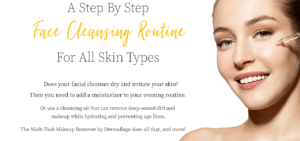 Foam wash, scrub, micellar water, gel, toner, cream. These are the most popular face cleansing products for us to rid our pores of dirt and keep zits at bay. And, of course, our nighttime regimen won't be complete without makeup remover wipes.
But have you heard of deep cleansing oil that doubles as a makeup remover and also serves as an oil cleanser for oily skin?
Nope, that wasn't a typo. Such products actually exist, and the best example to give you would be the Multi-Task Makeup Remover by Dermaflage.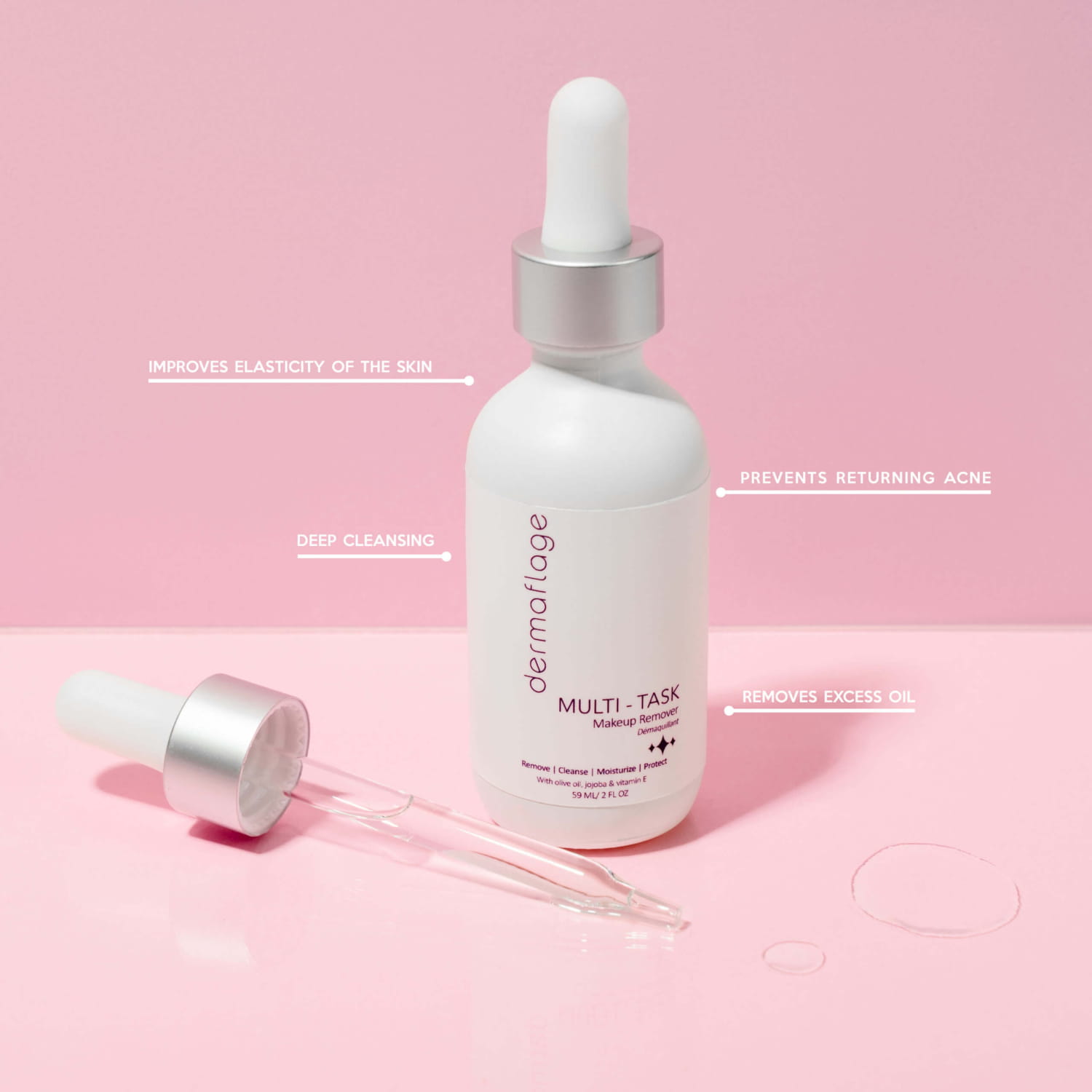 What Is A Facial Cleansing Oil?
We would all agree that the natural oils secreted by our facial skin draw in the dirt like a magnet. So, does it make sense to use oil to clean our face, much less take off makeup?
But, guess what? It turns out that the very nature of oil is the exact opposite of magnets whose positive and negative poles attract each other. Oil is a solvent that dissolves and merges with substances of similar composition.
This means that cleansing oil is an effective cleaning agent that lifts the sebum from your pores. By the same principle, it's also a natural makeup remover, given that makeup contains at least one type of oil.
What Makes an Oil Based Face Cleanser Better Than Regular Cleansers?
Maintains the Skin's pH Balance
The Potential Hydrogen (pH) of our skin determines its overall health. Exposure to harsh elements negatively impacts its balance. Air pollution, detergents, UV rays, and antibacterial soaps are just some of these. This is also why our face and hands are more susceptible to skin problems than, say, the armpits and buttocks. Natural oil helps your skin achieve a healthy balance of pH.
Forms a Protective Barrier
A simple cleansing oil naturally sourced from plants contains antioxidants that shield the skin from oxidative stress brought on by free radicals and environmental stressors. Some examples of good-for-your-skin oils are Olive, Jojoba, Sunflower, Argan, Grapeseed, Rosehip, and Coconut.
Combats Signs of Aging
By preventing cell damage, antioxidants also keep the skin more youthful. Natural oils are likewise more than capable of hydrating and locking in moisture which according to dermatologists, is the number one factor in preventing wrinkles and fine lines.
The moisturizing quality of facial cleansing oils makes them the best eye makeup remover. It's not easy to moisturize the area around the eyes because of its hypersensitivity, so having this extra benefit is a plus point.
Works For All Types of Skin
Nature has gifted us with different plants that produce their specific kind of oil such that all of us will surely find a match whatever our skin type. There's extra virgin Olive oil, Almond, and Avocado for dry skin; Sunflower, Grapeseed, and Pumpkin seed for oily complexion and Safflower for the combination type.
For those prone to acne – Olive, Jojoba, Castor, and Hemp oils will work wonders. Sensitive or inflamed skin can benefit from Camellia and Olive oils.
Tough on Indelible Makeup
And then there's a unique formula that gives you all of the above benefits PLUS removes long-wearing and waterproof cosmetics.
Multi-Task Makeup Remover by Dermaflage is a hardworking facial cleanser, moisturizer, anti-aging serum, and a defense against free radicals. You can consider it the best cleansing oil and oil based makeup remover because it can take off even the toughest indelibles and fillers.
If you're already a fan of the scar remover Dermaflage Topical Filler, then you know how long-lasting it can be. From dawn 'til dusk, at the beach, on the pool, or in the shower, it ensures your skin imperfections will remain a secret.
A product that sticks to the skin that well can't be easy to wipe off with a water-based solution. You need an oil makeup remover like the Multi-Task Makeup Remover by Dermaflage that does not cause dryness or irritate sensitive skin.
Here's how to remove makeup and change your evening routine using an oil-based cleanser…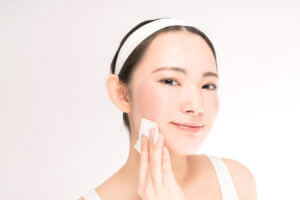 Simple Steps on How To Oil Cleanse
If you've been used to a face cleansing regimen that involves multiple products and steps, you'd be happy to know that using a cleansing oil is so much simpler than that.
The best way to remove makeup and dirt from your face is through the oil cleansing method below.
Step 1: Prep Oil and Face
The unique thing about using oil is that you must keep your face dry before applying it. That's right, in all its "dirty" glory.
If you have long hair, gather it in a bun. Otherwise, just make sure there are no stray strands getting in the way. Wrap your hair in a towel, wear a headband, or clip it in barrettes.
Wash your hands and dry them thoroughly. When you're ready, take a few drops of oil in your palms.
Step 2: Massage Gently
Apply the oil onto your skin in circular motions. Pay attention to problematic areas, such as the T-zone where acne commonly starts. Ensure as well that you're getting off all the makeup.
Remove your eye makeup last to prevent the oil from getting into your peepers. Feel free to take off your mascara with it. If you're using the right product, it should be safe.
Step 3: Wipe Off
You read that right. No need to wash! Music to your ears?
For best results, use a warm wet washcloth.
Most skin cleansing routines end with a moisturizer, but you can do away with that step when using a cleansing oil. Just read the label and choose one with Olive, Jojoba, or Argan oil as a base. These oils naturally hydrate the skin.
A Word on
Homemade Makeup Remover
We know that a few members of our empowered women tribe have the knack for concocting their own witches' brew. However, we would be careful about putting together an oil-based DIY makeup remover because it's not just a simple hydrating cleansing oil.
When subjected to heat, natural oils can change their constitution. Thus, they should undergo a cold compress treatment process to preserve the potency and prevent adverse effects on your skin.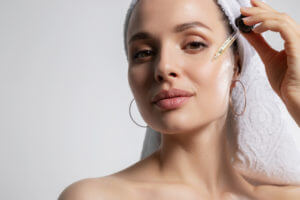 What is the Best Facial Cleansing Oil?
We've asked dermatologists for their recommended best makeup remover that's oil-based, and below are the brands they Rx to their patients: 
An anti-aging and acne control cleanser, makeup remover, and moisturizer in one. Olive fruit oil and Jojoba seed oil are the secrets to this cleansing oil's efficacy. As if that were not enough, it is also fortified with Vitamin E and antioxidants.
Cost: $15
DHC Deep Cleansing Oil
This Made in Japan facial cleanser and makeup remover uses Olive oil as the base. It is suitable for all skin types. But, you'll need to thoroughly rinse it with warm water after cleansing.
Average Cost: $28 
Burt's Bees Cleansing Oil
Coconut and Argan oils are the main ingredients in this formula. Coconut oil is rich in Vitamin E while Argan oil contains a host of vitamins and minerals. This cleansing oil promises to moisturize your skin while cleansing it of makeup and impurities.
Cost: $15.99 
Hada Labo Cleansing Oil
Also a Japanese product and Olive oil-based, this is best for dry skin. It is unscented and contains Hyaluronic Acid, which is known to hydrate the skin for a radiant and youthful complexion.
Average Cost: $15.50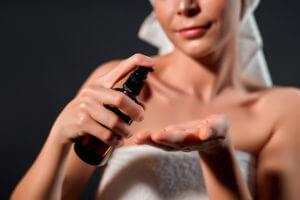 Final Thoughts
Among the most challenging skincare products to find are cleansing oil for acne and eye makeup remover. Zits are simply stubborn, and the eye area is ultra-sensitive. That's why most of us end up using a different one to address each issue.
Multi-task cleansing oil can change that. Consider it a makeup remover balm that cleans deep to prevent acne-causing bacteria while taking care of your skin, no matter how sensitive it is.