Look your Best Even When You Sweat with The Best Gym Makeup.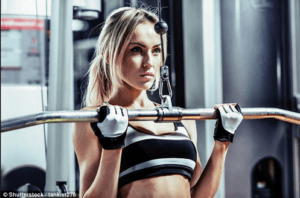 We all want to look our best in public and many of our customers ask what is the best makeup to wear to the gym? No one wants to have a face with melting foundation and black streaks of mascara. Fear not. You do not have to go into the world bare faced- here are our top tips for gym makeup without breakouts.
Keep it Minimal
The golden rule for gym makeup is to avoid epic breakouts by keeping it light and letting your skin breath. Wearing heavy foundation will clog pores and just come off on towels. Avoid any greasy or oily products that promise a dewy complexion. You will be sweating, that's plenty of glow! Don't waste your time or makeup on an elaborate smokey eye either- you're asking for smeared black eye shadow all over your face when you reach up to wipe the sweat out of your eyes. After your workout, try using inexpensive blotting sheets to look dewy but not sweaty.
The Miracle of Waterproof Eye Makeup
Ever seen a friend without her mascara on and been shocked? Mascara makes a big difference in how you look. Without it, your eyes may look smaller and you may look tired. Stay bright-eyed with one of the many waterproof mascaras- avoiding panda eyes is worth the extra effort it takes to remove the waterproof mascara. There are also long-wearing and very water-resistant eyeliners that are great for a gym makeup routine that you can find at the drugstore. Consider a brow gel to keep your brows shaped and nicely groomed. These three products alone are a powerhouse trio for gym makeup and ensure that you look put together.
Gym Makeup Mistake: Liquid Foundation. Try Waterproof Mineral Powder.
Foundation just sweats off and clogs pores. Instead look for a gym makeup that provides adequate coverage, is very light and is breathable. Go for natural/organic makeup, BB and CC creams because they work better with sweat and will not block pores to the same degree as products with harsher ingredients. Mineral powder is the best choice here but take note, not all mineral powders are the same. Look for a gym makeup brand that is very pigmented and water resistant to provide the coverage you seek. A good mineral powder can conceal serious discoloration and will stay in place throughout the sweatiest workout. Lastly, SPF is certainly a bonus if you will be outside.
Spot-Correct with Waterproof Concealer.
While many avoid all makeup at the gym to allow their skin to breathe, the majority of Dermaflage customers prefer some gym makeup to improve their confidence. The key is to find a smudge-proof matte concealer that will stay in place regardless of your activity. You need a concealer that you can trust to stay put over redness, acne, dark circles, scars, hyper-pigmentation and uneven skin tone. No one wants to be outed at the gym!
Try a Tinted Lipbalm or Matte Lipstick For a Perfect Pout.
Keep it natural with a soft pink or natural tone to go with your scaled down gym makeup look. It is ok to wear makeup to the gym but you don't want to look overdone or overly dramatic. Makeup for the gym should just be your best no-makeup, makeup.
You can and you should wear makeup to the gym. Make sure to research the best gym friendly makeup brands for products that will hold up to the demands of a hard workout.