Wondering if Bio Oil for acne scars really works? 
If you're searching for the best treatment for acne scars, you've probably seen and heard about Bio Oil for acne scars many times. It's one of today's most popular acne scar products, and because it appears on so many lists and online reviews, Bio Oil may seem like an obvious choice to get rid of acne scars fast. But is it the right product for you? The truth is, there isn't one "best" treatment that applies to every person and every acne scar, so it's smart to look at several options before you decide to try Bio Oil for acne scars.
Pros and Cons of Using Bio Oil for Acne Scars
Pros:

Availability – Bio Oil is very easy to find. It's sold at most drugstores and major retailers nationwide, including Wal-Mart and Target.
Price – Bio Oil is affordable, retailing at around $20.00 for over 4 ounces of the product. This makes it relatively inexpensive when compared to similar acne scar products.
Ingredients – Bio Oil contains a variety of ingredients, which may increase the chances that at least one of them will have a positive effect on your acne scars.
User-Friendly – Bio Oil is as quick and simple to use as any other facial oil or body oil, and sinks in faster than some heavier oils.
Moisturizing – Many reviewers report that Bio Oil is an effective emollient, particularly on dry, flaky skin.
Complementary Therapy — Bio Oil is safe to use in tandem with many other acne scar treatments, including silicone scar therapy like Dermaflage Topical Filler, to suit your individual needs.
Cons:
Formula – Bio Oil's mixture of mineral oil and other emollients may not have positive results on skin that is already oily, or on acne that is exacerbated by excess oil. Bio oil for acne scars has been reported by some users to cause acne breakouts.
Results – While it may improve the smoothness and softness of dry skin, Bio Oil is not likely to improve the texture of actual scars, fade discoloration, or make the appearance of scars less noticeable.
Ingredients – Many dermatologists believe that products with a large number of ingredients may increase the chances of causing irritation, especially on sensitive skin types. In particular, the fragrance ingredients and some of the plant oils are considered by many skincare experts to be potential skin irritants. Although flower extracts like lavender and rosemary are commonly used in spa treatments to promote relaxation, these ingredients may be too potent for use in skincare products and any ingredients that cause irritation to your scarred skin should be avoided.
Here, we'll cut through the hype and give you a closer look at what Bio Oil is and what it claims to do to diminish scars. Since Bio Oil is a scar treatment that works over time, we'll also tell you how you can use it along with a scar camouflage product like Dermaflage any time you need an acne scar filler with instant results.
<iframe style="width:120px;height:240px;" marginwidth="0″ marginheight="0″ scrolling="no" frameborder="0″ src="//ws-na.amazon-adsystem.com/widgets/q?ServiceVersion=20070822&OneJS=1&Operation=GetAdHtml&MarketPlace=US&source=ac&ref=tf_til&ad_type=product_link&tracking_id=dermaflageama-20&marketplace=amazon&region=US&placement=B00HPS5EK6&asins=B00HPS5EK6&linkId=9d96a2562683a0ce53e06c12568e5367&show_border=true&link_opens_in_new_window=false&price_color=333333&title_color=0066c0&bg_color=ffffff">
</iframe>
Even with over-the-counter acne scar products like Bio Oil, be sure to follow the advice of a dermatologist or other medical professional who can evaluate your specific condition and recommend the best products or scar treatments for you.
What is Bio Oil?
According to the manufacturer, Bio Oil is a combination of vitamins and plant extracts in an oil base, intended to improve the appearance of scars, acne scars, stretch marks, dry skin, and uneven pigmentation like sunspots and dark spots from aging skin. Bio Oil claims that its most significant ingredient is PurCellin Oil, which allows the other ingredients to be easily absorbed by your skin.
What Does Bio Oil Claim to Do?
Many online reviews call Bio Oil a "miracle" remedy for scars, and some even point to this bottle as the secret to how to get rid of acne scars for good. However, it's important to note that Bio Oil does not promise to make acne scars or any other types of scars disappear, or to prevent acne breakouts or acne scars. The makers of Bio Oil claim that it can help to improve the appearance of new or old scars, by utilizing specific skincare ingredients that help to moisturize the skin, reduce inflammation, and promote cell regeneration. It also claims to improve the condition of aging skin and to improve uneven skin tone caused by hyperpigmentation. Bio Oil is hypoallergenic, and appropriate for use on the face and body. Although it is an oil formula, Bio Oil claims that it is not heavy or greasy and won't clog pores.
How Does Bio Oil Compare to Silicone Scar Cream?
Bio Oil is an oil that seeks to improve the scar by improving moisture retention. There is not a lot of research on the results. Research studies by Plastic Surgeons and Dermatologists point to silicone as the best first line treatment to prevent and heal scars. Silicone can be applied as a gel or cream like Good Skin Scar Cream

What's In Bio Oil?
Though its not on the product's ingredient list, Bio Oil claims that it uses a "breakthrough" oil called PurCellin Oil, which – fun fact alert – is derived from a substance that is excreted through the skin of ducks to make their feathers waterproof. Bio Oil credits PurCellin Oil with making the formula so lightweight that your skin absorbs it quickly.  Bio Oil contains other commonly-used oils, including mineral oil, sunflower seed oil, and soybean oil, several fragrance components and synthetics, as well as natural botanical extracts with skin-related benefits. Read on for the breakdown of Bio Oil's key ingredients, according to the manufacturer and details from The International Dermal Institute.   Read more about the benefits of botanical extracts in skincare here.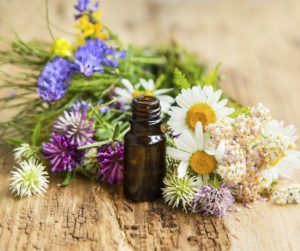 Key Ingredients of Bio Oil (and What They Do)
Vitamin A helps exfoliate or accelerate the skin's renewal process, which can improve its texture and tone. It also promotes the formation of new collagen, helping to increase elasticity. Vitamin A is less aggressive and less likely to cause irritation than its more potent form, which is known as retinol.
 Vitamin E is a moisturizer and an antioxidant, which helps protect the skin from free radicals that can cause skin damage and premature aging.
Calendula Oil moisturizes and regenerates skin cells. It helps heal dry, sensitive skin and reduces inflammation caused by skin injury, scarring, or sunburn.
Lavender Oil is believed to destroy bacteria in the skin as well as calm and soothe irritated skin.
Rosemary Oil has antiseptic and antimicrobial effects that reduce bacteria and viruses, decrease inflammation and promote healing of wounds.
Chamomile Oil is especially useful for sensitive skin because it's soothing, calming, healing and anti-inflammatory. It may help even out discoloration.
How Effective is Bio Oil for Acne Scars?
Bio Oil works the same on all types of acne scars and other indented scars, whether they are pockmarks, ice pick scars, rolling scars, or boxcar scars. The product's basic premise is that moisture is the best treatment for acne scars, so Bio Oil functions as an emollient, aiming to reduce the appearance of acne scars by keeping them hydrated. Although Bio Oil claims that it's non-pore-clogging and quickly absorbed by your skin, keep in mind that it is still an oil-based product. So, if you believe your acne is caused by, or worsened by, products that contain oil, be sure to consult your dermatologist before using Bio Oil for acne scars.
How to Use Bio Oil for Scars
 The makers of Bio Oil recommend that you apply the product twice daily for a minimum of 3 months. A few drops of Bio Oil should be applied directly to the acne scar or discolored skin, and massaged in a circular motion until fully absorbed.
The Best Treatment for Acne Scars: Hide Scars While You Heal
If you've decided to try Bio Oil for acne scars to see if it really is the best treatment for acne scars, consider combining it with Dermaflage Topical Filler for a one-two punch that hides your indented acne scars – including ice pick scars, boxcar scars, rolling scars and pockmarks. With this method, you'll continue to apply Bio Oil for scars each night and Dermaflage in the daytime or whenever you want to cover your acne scars for an instant confidence boost. (Dermaflage must be applied to clean skin, free of any products) The brainchild of Hollywood's leading special effects makeup artists, Dermaflage does the impossible by completely covering scars yet looking just like real skin. Curious? Click here to check out the Dermaflage Starter Kit  or see it in action in these incredible before-and-after pics.
When it comes to skincare, as with anything in life, information is power! So, we hope this information is helpful to you as you search for the best treatment for acne scars. You've probably heard this before, but it's advice worth repeating: the best solution for scars is to prevent them from occurring in the first place (step away from the zit, please), but we know that may be easier said than done. If you suffer from acne breakouts, the earlier you treat and heal them, the less you risk severe scarring. And, the more mild your scars are, the better results you'll get from using over-the-counter scar treatments like Bio Oil for acne scars.
As you're exploring scar treatment options, be sure to check out these video testimonials from some of our customers who believe Dermaflage is the best product for acne scars.
Have you tried Bio Oil for scars or for acne scars? Tell us about your experience in the comments below!
Dermaflage is the Leading Scar Concealment Brand