The amazing Dermaflage Before and After pics are just the beginning!
Explore our resources to learn more about how Dermaflage works; find answers to commonly-asked questions; and read Dermaflage reviews for what real users have to say about their experience with Dermaflage for filling and concealing scars.
Check out our social media community, our FAQ's, and our most recent blog posts to stay in-the-know about all things Dermaflage.
OUR FORUM
[bbp-topic-index]
FREQUENTLY ASKED QUESTIONS
Do I need sunscreen for my scars? Can I wear sunscreen and Dermaflage together?
Yes, and you should! Scars are highly susceptible to sun damage and doctors recommend sunscreen for scars to prevent further discoloration/darkening, sunburns, and irritation.  You can wear a mineral powder foundation with SPF, or an oil-free zinc sunscreen under Dermaflage.  You can also use a spray-on sunscreen on top of Dermaflage if you prefer.  The Dermaflage product family includes Made in the shade Powder Foundation with SPF 26 and ScarScreen lotion with SPF 30, both formulated specifically for scars and designed for use with Dermaflage Topical Filler.
Does Dermaflage work for raised or keloid scars?
Unfortunately, no.  Dermaflage conceals scars by filling in recessed or indented scar to "even out" the surface with the surrounding skin.  Dermaflge does not work well for raised or keloid scars because there is nothing to fill in.  Check out the Dermaflage before and after pics to see examples of the types of indented scars that can be filled and concealed. 
Can I take Dermaflage on a plane?
Yes! You can carry your Dermaflage with you on your flight--just treat it like you do all of the other liquids.  Also, the altitude does not change the composition or performance.
Why is only one side of the applicator tinted?
The most important thing to understand about Dermaflage is that it is a two-part silicone product.  The tinted silicone must mix together with the clear silicone in order for the material to change form a honey like consistency to a thin flexible film.  You cannot conceal your scar with just one side of the applicator because the silicone will not transform to the thin layer that looks and feels like real skin.
Dermaflage is translucent and allows your natural undertones to shine through, for a completely natural "real skin: look. With Dermaflage, you aren't erasing your skin tone with an opaque concealer, you're simply leveling the surface of your skin for a flawless, smooth complexion.  Read Dermaflage reviews for application tips and tricks form real users.
FAQs
From the Blog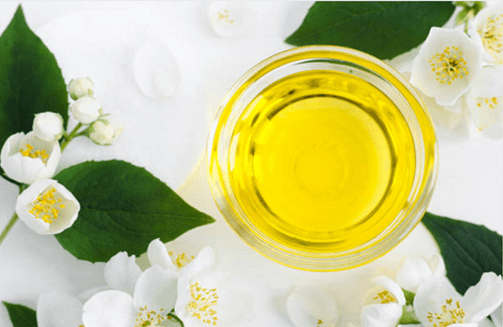 Oil to Clean the Skin? Yes! Cleansing Oil Does MORE As counter intuitive as it sounds, facial cleansing oil is an incredible multi-tasker that delivers more skin benefits than old school makeup remover.  Oil cleansing myths- busted! If you're like us, when you first heard about using oil to clean your face and remove makeup, […]
User Reviews
This product has changed my life for the better and at this point I'm not sure I could live without it!.
Salad Shooter|4reviewers made a similar statement