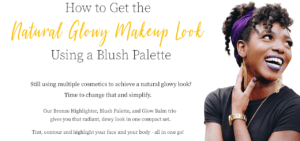 Gone are the days when natural makeup meant subtly enhancing certain facial features, such as the eyes and the lips. Celebrities, models, and influencers have redefined the natural look on the red carpet, catwalks, and Instagram. Yes, my sisters, the glowy makeup look is the order of the day. The trick? The blush palette.
Makeup artists typically use a 7-step process, with an equal number of cosmetics, to achieve it. (Really? Yup.)
Now, if you have neither the budget nor the time, you can still glow like a Kardashian with a 3-in-1 blush palette. What's more, it takes a fraction of the time to get done, too.
What Is Natural Glowy Makeup?
According to makeup artists Elwynn and Cass, it is "an effortless, no-makeup makeup look. It's about enhancing everything, making you look more radiant and beautiful without specifically playing up a single feature."
A natural-looking glow does more than flatter your appearance. With polished skin, you can look fresh even under stress. And it's no longer a style confined to Saturday brunch out with the kids, either.
Many brides now opt for natural glowy makeup look. Power brokers wear the natural bronze makeup look to formal dinner functions to complement the tan on their bodies. And executives are not to be left behind. Don't be surprised if you see them delivering client pitches in shimmering splendor. We're talking about the complexion of course!
The trend has spawned a dizzying array of glow makeup products. From primers and moisturizers for prepping the skin, to cheek tints and face bronzer for the shine, to powder and spray for setting.
But why go through all that trouble when you can achieve that resplendent glow look using blush palette alone? Believe it or not, it can be done. And in 3 easy steps to boot.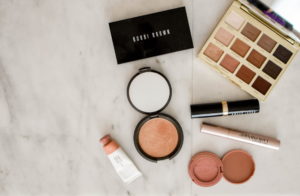 Why Choose a Blush Palette?
First of all, a palette comes in various colors you can mix and match according to your outfit, the time of day, or as the occasion calls for. Secondly, it is great value for money as you're using one product in place of many. And third, it helps reduce clutter.
We know what you're thinking: How can just one blush palette manage to give me a natural glowy look when a blush is only meant to color my cheeks?
That's what we were thinking, too. Hence, the idea for Lit From Within was born. The blush palette, bronze highlighter, and skin glow balm trio come in one handy compact you can take anywhere.
This blush and contour palette includes a translucent, light-reflecting balm that not only hydrates and refreshes your skin but also creates a shimmering incandescence that will be tough to match. We've also combined it with luminescent pigments that look completely natural and universally flattering.
Unlike a plain cheek palette, you can apply Lit From Within on your body as well. By creating an even and seamless tone, your bare shoulders and back will beautifully complement your face. That little black dress in your closet just earned a new lease of life!
The secret to an unpretentious radiant look is out and it is the blush and glow makeup that comes across as au naturel. To this end, creamy products like Lit From Within are more effective than powders which tend to matte.
And whether you wear the set alone or pair it with makeup, the transformation on your complexion will be the same – from sadly sallow to deliciously dewy.
Here's how to get there…
How To Apply A Blush Palette For A Bronze Makeup Look
Before we get down to brass tacks, it's noteworthy to mention that Lit From Within is also a blush palette for dark skin, not just for fair ones.
You can blend each shade of this cream bronzer cum highlighter cum blush palette until the result matches your exact skin tone. It comes in three colors – Copper, Rose Blush, and Pink Gold. We've studied countless combinations of numerous hues and found them the best in terms of suitability to all skin tones.
Now, on to creating that gorgeously glowing natural look.
Step 1: Hydrate, Smooth, and Plump
Glide the Skin Glow balm onto all the areas of your face to soften imperfections and prime your skin for the blush and the bronzer. This serves as the highlighter that holds everything together in a well-blended composition.
One of the best things about our hydrating balm is that it stays on all day. So, you don't need to worry about retouching or diminishing shine. It's also lightweight, making it effortless to apply, and will feel like you're not wearing anything at all.
Pro Tip: For a fresh no-makeup makeup look that shines, use our Skin Glow balm instead of your usual foundation. If you wish, and where needed, you may add a concealer.
Step 2: Tint Your Cheeks
Dab the blush on the apples of your cheeks and spread it evenly outwards along your cheekbones. Dot some and blend on your brow bones and Cupid's bow as well to light up your eyes.
You will notice that our pigment is shinier than a pressed powder blush. That's because creams naturally have more sheen than powder. It will also not slide off or feel sticky like gel, which often leaves a damp feeling.
Pro Tip: The best blush palette allows you to intensify your pinkish glow when you are inclined to do so. With Lit From Within, you can do exactly that by simply applying additional layers.
Step 3: Contour with the
Shimmer Bronzer
Finally, to achieve the sun-kissed, just-off-the-beach glow, apply our bronzer on the edges of your face in a sweeping motion. Do the same under your cheekbones, albeit ever so lightly, for a warmer and more sculpted look.
You would also want to bronze-ify the high points of your face, like the tips of your nose and chin. When they catch the light, whether natural or artificial, your face will glimmer with a healthy and natural shine.
Pro Tip: If your skin is very pale, this is the best bronzer you can use. Just blend it with a bit of the blush before applying. This will result in a more flattering contrast.
As mentioned above, this natural glowy makeup trio may also be used on the body. Feel free to use it on your neck, shoulders, and decolletage by following the same 3-step method.
Final Thoughts
Unlike other highlighters, bronzers and blush palette products, Lit From Within is as versatile as you've always wished your natural glowy makeup could be. 
You can use it alone to show off your inherent charm by highlighting your best features. Or combine it with makeup for a glossy dressed-up look. Day or night, casual or glam, this palette will always rise to the occasion.
It's good for your skin health as well. Our 3-in-1 bronzer makeup is rich in Vitamin E so you don't need to be concerned when you need to wear it for extended hours. 
Plus, you can do away with skin tone tests. Whatever your color, our trio can be blended to match it. And the result will consistently be a radiant, dewy, and shiny complexion, naturally.
Ready for a close-up?