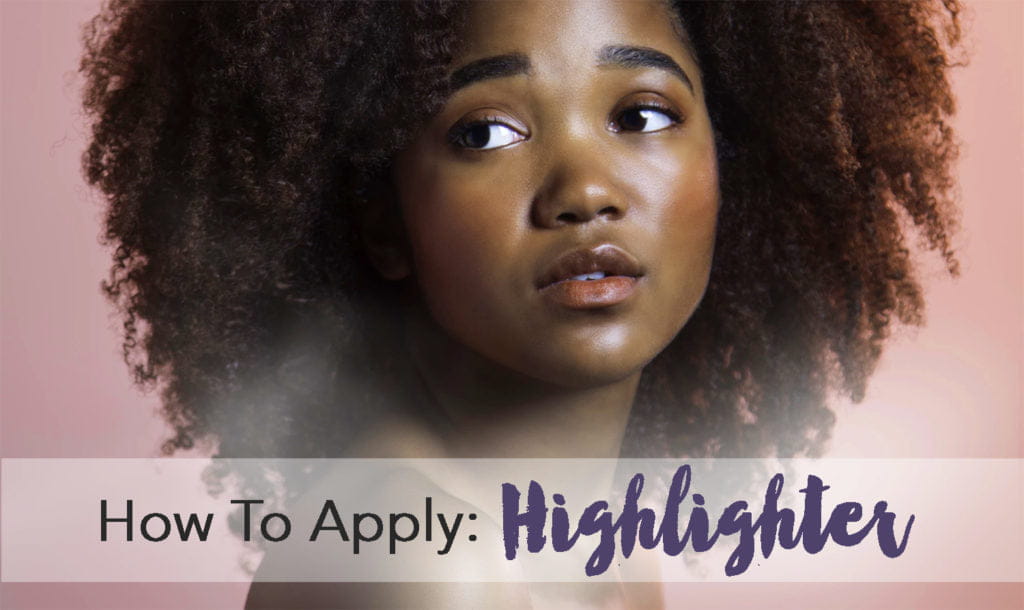 How To Apply Highlighter
Who doesn't want radiant looking skin? One of the easiest ways to make your skin look glowy and dewy is to use a highlighter. Skin highlighters come in various formulas and shades to illuminate your skin to look lit from within – when applied correctly.
Where To Apply Highlighter
Knowing where to apply highlighter can be tricky for some. An easy way to know where to apply it is on the highest points of your face – where the sun hits. The top of your cheekbones, temples, bridge of your nose, and your brow bone are the main places to apply highlighter. However, you can apply highlighter to any area of your skin that you would like draw attention with a glow.
Some of the lesser thought of places to apply highlighter includes your collar bone and bare shoulder. Also, adding a dab of highlighter to your cupid's bow, the curve above your lip, can make your lips look softer and fuller.
Different Types of Highlighters
As mentioned earlier, highlighters come in different shades and formulas. So, no matter your skin type or makeup preference, there's a highlighter for you.
What type of highlighter should you use?
The most popular form of skin highlighters are powder, which works great on most skin types. Most powder highlighters give highly shimmery finishes – sparkly and glittery.
However, if you have oily skin, you might want to try a cream highlighter to give you a dewy – not oily face. Cream highlighters are great for adding natural looking highlights to your face for a shimmer-free glow.
Those with normal to dry skin should use a liquid highlighter to get dewy, hydrated looking skin. Plus, liquid highlighters are great to mix with moisturizers for an all over natural or extra glow.
What To Use To Apply Highlighter
Now that you have an idea of which type of highlighter to use – what do you use to apply it?
Thankfully, there are a few options and tools that you can use. You can use a fluffy makeup brush for a soft look or fan brush for more application control. No matter if you want your highlight to be soft and simple or glowy and glitzy – the right brush can make all the difference.
When it comes to applying liquid and cream highlighters, your fingers make for the best application. Your fingers allow you to easily apply and blend in cream and liquid highlighters into your skin. Also, a damp beauty sponge will do the trick, too.
Wondering about the Best Highlighter to Buy?
Powder Highlighters
Becca highlighters are a fav in the beauty community and tend to be really shimmery. Also, Colourpop highlighter offers really good cheap powder highlighters that come in many shades and formulas.
Cream Highlighters
Dermaflage Skin Balm Highlighter palette gives your skin a translucent, balmy look with just a little shimmer. It comes with 3 different shades to let you blend up a shade to make your skin look healthy and hydrated. The best drugstore highlighter is Wet n Wild highlighter (MegaGlow Cream Highlight Stick) is a cream-to-powder formula that also gives a soft glow.
Liquid Highlighters
Cover FX Custom Enhancer liquid highlighters are very versatile. You can wear them alone, mixed with just a moisturizer, or with your foundation for an overall glow. NYX Cosmetics makes a similar and inexpensive liquid highlighter but more lightweight.