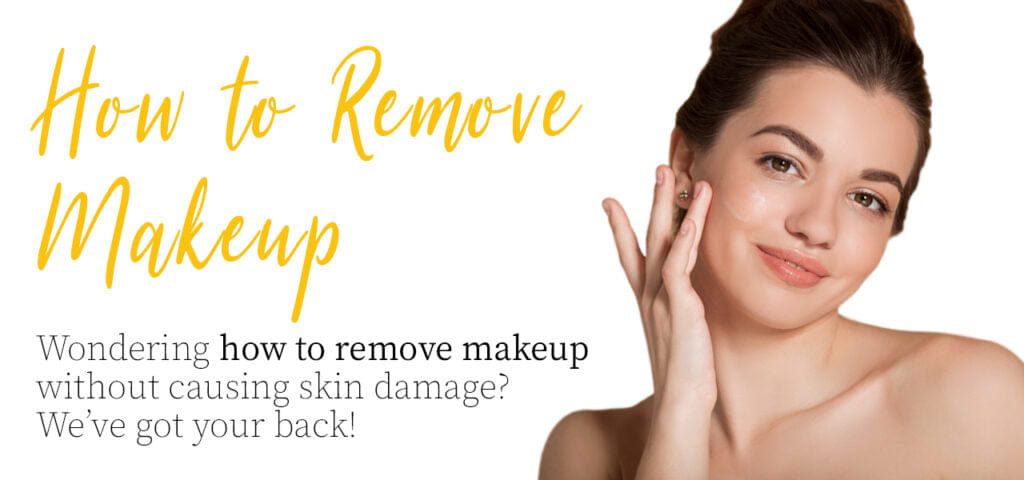 ---
Makeup removal is just as unique a routine as the way women get ready in the morning. Some bring out their Neutrogena makeup remover wipes, Clinique makeup remover balm, or makeup removal towel, and they're done in less than five minutes.
Some schedule a specific time every night to prepare their makeup removing wipes, micellar water makeup remover, or reusable makeup remover pads with the rest of their evening skincare products. And some enjoy preparing DIY makeup remover or coconut oil makeup remover so they know every ingredient that goes into what they put on their faces.
At Dermaflage, we make sure our makeup remover cleanser is great for your skin. Multi-Task by Dermaflage is infused with jojoba seed oil, olive oil, vitamin E, and squalene. Our natural makeup remover is best for sensitive, acne-prone skin—it penetrates the pores, diminishes sebum production, and protects natural skin barriers while removing the most stubborn traces of makeup.
Even if you already use the best makeup remover wipes or the best drugstore makeup remover available today, you must know how to remove makeup properly to ensure skin health.
Why Should You Pay Attention to How You Remove Makeup?
Sebum production is one of the trickiest natural processes that affect the skin. Healthy sebum production combats irritation, provides hydration, and protects against microbes. However, excess production can lead to oiliness and acne breakouts, and underproduction causes dryness, flakiness, or itchiness.
Quality makeup removing balm, makeup remover cloth, and makeup remover pads cleanse the skin to aid the balanced production of sebum.
A careful makeup removal process also helps avoid the following:
Clogged pores
Dull complexion
Dry and damaged skin
Skin irritation and breakouts
Eye infection and dry eye symptoms
What Are Common Makeup Removal Mistakes To Avoid?
Dermaflage cleansing oil, Bioderma makeup remover, Cetaphil makeup remover, Ponds makeup remover, and Garnier makeup remover water—these are some of the best makeup removing wipes, balms, oils, and other products on the market today.
You must use these products properly so your skin can reap maximum benefits. Here are some of the things to avoid when you're removing your makeup:
Using Eye Makeup Remover for Everything
Products like the Clinique eye makeup remover, Neutrogena eye makeup remover, and Mary Kay eye makeup remover effectively erase all remnants of your longest-lasting eyeliner and mascara.
However, these products contain strong ingredients that may clog pores and trigger breakouts if used on the rest of the face.
Using Regular Cleansers for Heavy or Waterproof Makeup
A regular cleanser is fine if you're washing your bare face or if you only used light products like tinted sunscreen and powder.
You need something stronger to remove heavy, long-lasting, and waterproof makeup. Leaving behind invisible traces of makeup on your face will lead to breakouts and irritation.
Using Just Makeup Cleanser Wipes
You could be using the best wipes for removing makeup, but that doesn't mean you should skip the rest of your makeup removal routine. Yes, wipes are very convenient and do the job on the go. But they aren't enough if you have oily, acne-prone, or sensitive skin. Make sure your skin is clear of all residue by double cleansing.
Scrubbing Your Skin Too Hard
You must wash your face meticulously if you want to get rid of all traces of makeup. The skin on your face is more delicate, so rubbing it vigorously—even with your bare hands and a foaming cleanser—could cause damage.
Just use gentle, circular motions.
Skipping Your Neck and Jawline
Makeup residue might be the reason for persistent acne or irritation across your neck, jawline, and hairline. Take off your makeup remnants from those areas as well.
What Is the Best Way to Remove Makeup?
Now that we've established what not to do when taking off your makeup, let's go over the best way to do it.
Use a Cleanser to Break Down the Makeup
Your facial cleanser and makeup cleanser work hand in hand to keep your skin clean and dirt-free. But you also must also be mindful of how you use them.
Gently massage the cleanser onto your face, extending from your hairline to around your ears to your jawline, before washing it off. Pat your face dry with a soft washcloth afterward.
Consider Steaming When You Have Time
If you need to wash off a full face of makeup, it will take more than a few light swipes of makeup cleanser.
Set aside a few minutes to steam your face before cleansing. You can fill up a bowl or your sink with hot water, then hover over it. The steam opens your pores so your cleanser can better penetrate the skin and wash all makeup residue out.
Pay Extra Attention to Your Eyes
Mascara, eyeliner, and eyeshadow are some of the toughest products to remove, and they are on the most sensitive parts of the face. Invest in quality eye makeup cleansers and take your time when using them.
Be Gentle and Careful with Your Skin
Makeup, skincare products, and environmental pollutants aren't the only factors that can cause skin dehydration or irritation. The way you clean your face is a potential contributor to damage, too.
Always be gentle with your skin. Massage products lightly—don't scrub them in. Your skin will thank you for it!
Choose the Right Cleanser for Different Makeup Types
If you use light makeup and have sensitive skin, gentle cleansers are the way to go. However, if you wear long-lasting lipstick and highly pigmented makeup, opt for an oil-based cleanser to make the cleansing process easier. It's better for skin health, too.
What Are the Best Makeup Removers To Choose From?
It's one thing to have access to makeup that effectively covers up acne, discoloration, and hyperpigmentation. It's another to invest in skincare products that thoroughly cleanse your skin and combat the physical signs of skin damage.
Some of the most trusted products on the market are Dermaflage oil makeup cleanser, Clinique Take The Day Off makeup cleanser, Lancome makeup cleanser, Tarte makeup cleanser, and Cerave makeup cleanser, to name a few.
The best cleanser ultimately depends on which products your skin responds well to. Dermaflage recommends exploring oil cleansing instead of abrasive makeup removal and homemade cleansing products.
Here are the benefits of oil based cleansing products for your skin:
Eliminate excess sebum from skin
Clean out blackheads, whiteheads, and clogged pores
Thoroughly cleanses makeup, pollutants, and dead skin cells
Another reason to use an oil-based cleanser is that oil can easily lift any makeup formula, including oil-based, oil-free, and waterproof formulas.
Oil cleansers effectively take off makeup, dirt, and sebum while balancing the skin and locking in hydration. On the other hand, oil-free facial and traditional cleansers may contain harsh ingredients that may cause acne, dryness, and irritation.
With that in mind, choose face and eye products carefully.
Make Dermaflage Part of Your Beauty Routine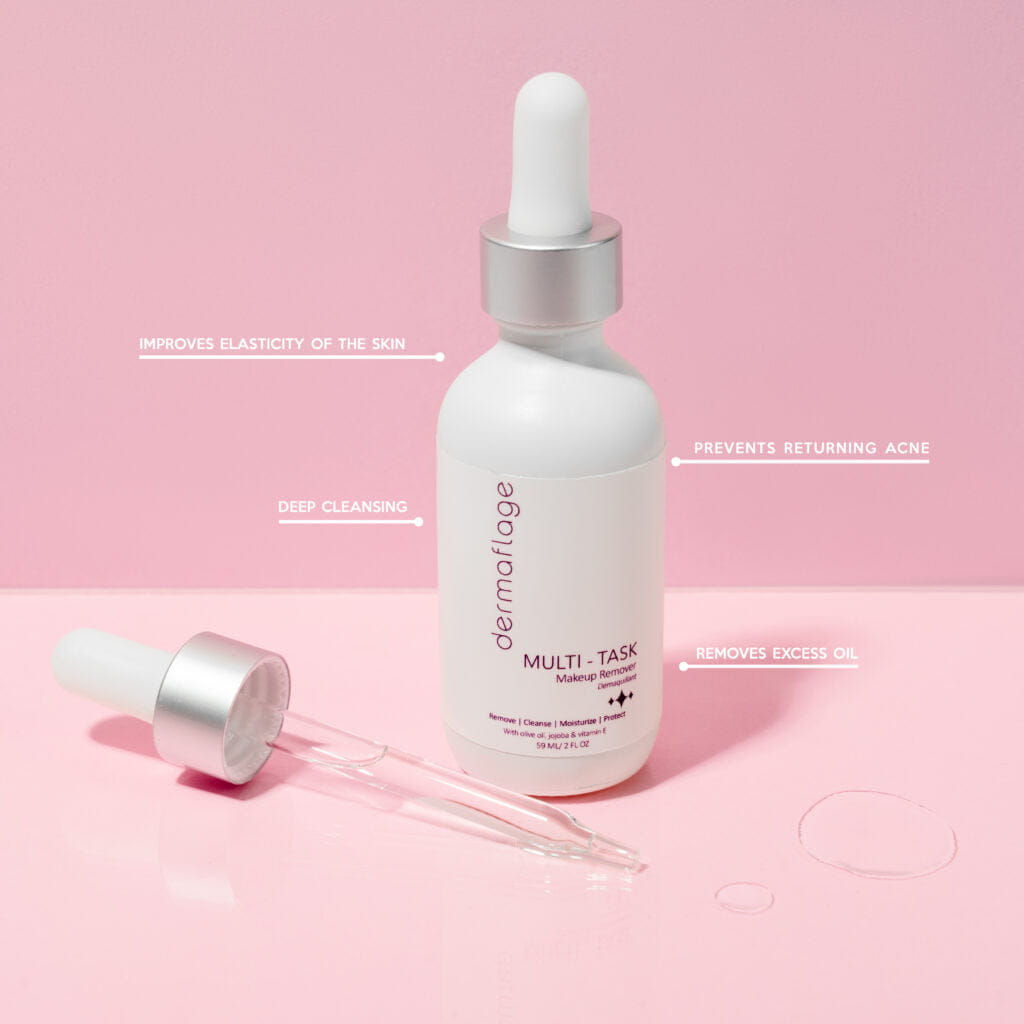 Dermaflage knows the best ways to make your skin look and feel flawless. Our brand takes pride in years of research and development for makeup and skincare products you can trust.
One of these products is the Multi-Task Makeup Remover. It is rich in jojoba oil and olive-derived squalane that work together to thoroughly take off the makeup, gently cleanse skin, and boost antioxidants. It leaves skin supple and moisturized. This product also helps treat acne, prevent breakouts, and diminish excess oil production, making it the best cleanser for sensitive skin and acne-prone skin. Add it to your everyday beauty routine today!