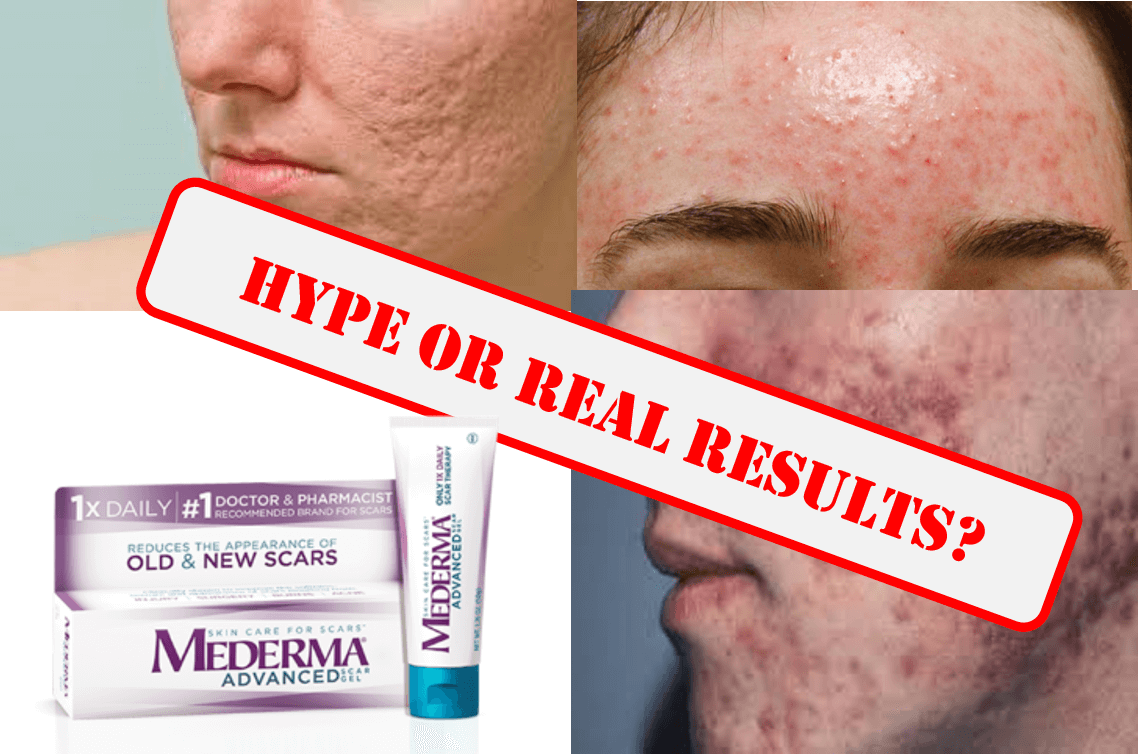 Review of Mederma for Acne Scars
Does Mederma Work on Acne Scars?
If you have acne scars that you'd like to make disappear, you may be curious about Mederma. Mederma is one of the most well-known treatments, but does that mean it's the best scar treatment for you? The good news is that skincare companies are constantly researching and developing new products to fade scars. The bad news is that with so many options and so many claims, it can be difficult to separate the fact from fiction to find a scar treatment that really works.
If you're wondering, Does Mederma work on acne scars? Then you may want to read below for our crash course on what it is, its ingredients, and the pros and cons in this Mederma review. We'll also show you how using an instant acne scar filler like Dermaflage can fake a flawless look while you wait to see results.
Pros and Cons of Using Mederma to Fade Acne Scars
Pros:
Availability – Mederma is very easy to find. It's sold at most drugstores and major retailers nationwide, and by online retailers such as Amazon.com.
Price – Mederma is affordable, retailing at around $30.00 for a 1.7- ounce tube of the product. This makes it relatively inexpensive when compared to high-end scar products and in-office procedures, however, it should be noted that the treatment must be continued beyond the first tube – up to 3 to 6 months for existing or "older" scars.
Formula – Mederma is a water-based, non-greasy gel, which the manufacturer states should not cause further acne breakouts or clogged pores. (Of course, it's always smart to patch-test a new product before you apply it to your whole face!)
User-Friendly – Mederma is quick and simple to use, and comes in a portable tube.
Complementary Therapy — Mederma is safe to use in tandem with other over-the-counter skincare products and makeup, as well as with Dermaflage Topical Filler, so you can camouflage your scars while you wait for Mederma to show results. Check with your dermatologist before using Mederma with any prescription skin treatments.
Cons:
Results – There is not enough clinical evidence to prove that Mederma improves the appearance of scars better than petroleum jelly, such as Vaseline, which costs far less. Also, its effectiveness appears to be linked to whether a scar is raised or indented.
Commitment – You must be diligent about applying Mederma every day (sometimes 3 – 4 times a day) for up to 6 months for older scars.
Ingredients – Mederma's formula does include some chemical ingredients, which may cause irritation for some users, and some people may be allergic to the onion extract.
Before using over-the-counter products like Mederma for your acne scars, be sure to follow the advice of a dermatologist or other medical professional who can evaluate your specific condition and recommend the best products or scar treatments for you.
What is Mederma?
Mederma is an over-the-counter topical gel intended to reduce the appearance of all types of scars, including acne scars.
What Does Mederma Claim to Do?
It's tempting to believe the hype of incredible-sounding reviews and to buy an acne scar product hoping it will make your scars vanish completely. Unfortunately, that's not a realistic expectation for Mederma, or for any other topical scar cream or scar gel. That's why it's important to look at the specific claims made by the makers of Mederma, who state that Mederma Scar Cream and Mederma Advanced Scar Gel are "clinically shown to improve the texture, color, softness and overall appearance of scars caused by injury, acne, surgery or burns." This claim doesn't specifically call out raised scars or indented scars. So, if you're still asking yourself, Does Mederma Get Rid of Acne Scars?, the answer is that even the makers of the product do not make that promise.
What's in Mederma?
According to the manufacturer, what makes Mederma different is an ingredient that they call Cepalin, which is a proprietary extract derived from onions. This extract is used in all of the Mederma scar products.
How to Use Mederma for Acne Scars
Regardless of the type of scar, the directions for use are the same for Mederma. On the company website, the makers state that  Mederma Scar Cream, which is the original version of the product, should be gently rubbed into the scar 3 – 4 times per day for 8 weeks on new scars (after the wound has closed), and 3 -4 times per day for 3 -6 months on existing scars. Mederma Advanced Scar Gel should be gently rubbed into the scar once a day for 8 weeks on new scars, and once a day for 3 -6 months on existing scars.
Does Mederma work on Acne Scars?
The research on the effectiveness of Mederma's key active ingredient, onion bulb extract, is mixed, and much of it seems to focus on raised scars rather than the sunken or pitted marks often left by acne.  A 2007 study on the effects of onion extract on hypertrophic (raised) scars found that the ingredient's properties reduced inflammation on the skin's surface, making scars less noticeable, and also affected the scar's color. Although these results were favorable, this study concluded that the most effective therapeutic results were obtained when the onion extract was combined with silicone gel sheets. Another study from 2010  on the effects of onion extract on raised scars found "clinical improvement" on skin lesions after the topical gel was applied twice a day for 24 weeks.
Is Mederma Better Than Silicone?
A leading group of Dermatologists produced this Recommendation on Scar Management which touts silicone as the best first line treatment for scars. This research is why we developed our Acne Scar Cream with silicone and collagen producing peptides to help scars to heal in the best manner possible. Read about silicone's scar healing properties here.
Mederma Review – What do users say?
As with many other scar treatments, there are a large number of Mederma scar cream reviews online, some glowing and some not so much. You'll find a Mederma review from consumers with all different types of scars — raised scars, indented scars, acne scars, surgery scars, burns, dog bites, you name it — so search for the specific type of scar you want to treat for the most useful Mederma review. If you're interested in what real Mederma users have to say about the product, click here to read about some of the positive experiences and here for some of the less favorable ones.
How to Hide Acne Scars While You Heal
If you've decided to see for yourself if Mederma can fade your acne scars, keep in mind that the manufacturer tells you to give the product at least four weeks before you should expect results. That may seem like a long time to wait if you feel your acne scars are holding you back. For instant scar camouflage, Dermaflage Topical Filler is a secret weapon that fills in indented scars – including acne scars, ice pick scars, boxcar scars, rolling scars and pockmarks.  If you want to try a combination treatment, you could try Mederma at night and Dermaflage during the day as it needs to be applied on clean skin, free of any products. Dermaflage was inspired by Hollywood Special Effects makeup techniques, so it will completely cover acne scars yet look and feel just like real skin. Dermaflage is made from a medical grade silicone which has been proven to help scars return to a normal appearance. Check out the Dermaflage Starter Kit  and make sure to look at the "see-it-to believe-it" before-and-after pics.
The Bottom Line
Mederma probably won't make your scar look worse, but whether or not you'll see a noticeable improvement varies from one person to the next. Since there is no "magic potion" to get rid of acne scars completely, the best you can hope for from a topical scar cream like Mederma is a softer, smoother texture and a slight color fade. However, skincare companies are investing significant research and resources into more effective scar solutions, with the hope that scars won't be a part of our future. In the meantime, remember that Dermaflage can help you conceal scars while you wait for them to fade.
What scar treatments have you tried? Tell us about your results with Mederma or any other acne scar products in the comments below!
Dermaflage is the Leading Scar Concealment Brand