How to cover up skin redness?
We've got you covered with top tips to easily cover skin redness & recommendations on the best makeup that really gets the job done.
Whether you need makeup for Rosacea, broken capillaries, lupus rash, wind burn or acne, skin redness can be reduced and effectively concealed. We've talked to the experts and got some ideas here for you on simple skincare and specialized cosmetics that will greatly reduce the redness and get you back to looking and feeling your best!
What causes skin redness?
Anyone with sensitive skin, knows the struggle with redness is real. Dry skin and dilated blood vessels are big contributors to the problem and can be caused by a variety of things.  If the skin is irritated from harsh elements or an allergic reaction, extra blood moves to the skin's surface to fight off irritants and promote healing. Exertion from exercise can also cause your face to turn red temporarily. More troubling though, is the redness caused from skin conditions such as rosacea, acne or Lupus.

What is rosacea?
Rosacea is an inflammatory skin condition that causes redness from easy blushing, inflamed blood vessles and facial pustules. Common in the U.S. amoung fair-skinned people, it is esitmated that 1 in 20 people have rosacea. While the condition can be managed, currently there is no cure.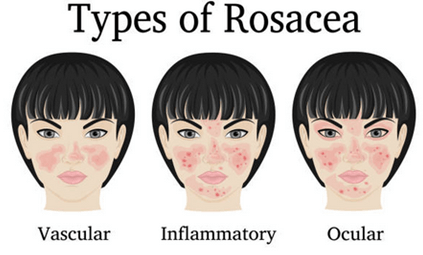 According to rosacea.org, the website of the US National Rosacea Society, the condition gets worse in winter because skin is drier and more easily irritated by the cold and wind. Common triggers for a flare up include: spicy food, sun exposure, hard cheeses, heat, alcohol, intense emotions, and changes in the weather.
Next we'll talk about the best makeup to cover rosacea redness and best foundation for redness in skin.
Makeup tips for redness & makeup for rosacea
Many people want to know how to cover up redness effectively without further irritating sensitive skin or having to use heavy makeup that clogs pores and causes more skin problems. The trick is to find makeup with full coverage but a light consistency. The best makeup to cover redness and acne is a color corrector, a very pigmented concealer and foundation for sensitive skin.
Steps to hide skin redness
Skin care: The best creams are hydrating and non-irritating, look for moisturizers with hyralonic acid
SPF: protect your sensitive skin from the sun!
Color correct: use a green hued primer or color corrector palette to block out the redness. Read more about this here, How to Apply Color Correcting Concealer
Concealer: use a concealer that is heavily pigmented but is not too thick so that your skin still has a nice natural finish. Use the concealer just as a spot corrector where the redness is the worst.
Foundation: we are big fans of mineral powder because it is so good to sensitive skin. Look for one that is heavily pigmented and has SPF. That way you can dust it again throughout the day for sun protection. Check out Made in the Shade for its heavy pigment and waterproof coverage!
Setting powder: if you go with a liquid foundation, you'll want a setting powder to make sure you stay concealed all day. We like "banana powder" because it has a universally flattering golden hue that sets makeup and color corrects. What is banana powder you ask? Read about it here on our blog.
What makeup covers up skin redness?
We've reviewed the best makeup for skin redness, makeup for rosacea and redness caused by acne. Here is our list of the best makeup for rosacea sufferers & acne discoloration:
Dermaflage– check out the super pigmented color corrector, transfer-proof concealer and the mineral powder with the coverage of a liquid foundation- its the best mineral makeup for rosacea!
Clinique Redness Solutions- $44.63
IT Cosmetics Bye Bye Redness- $32
Makeup tutorial for concealing redness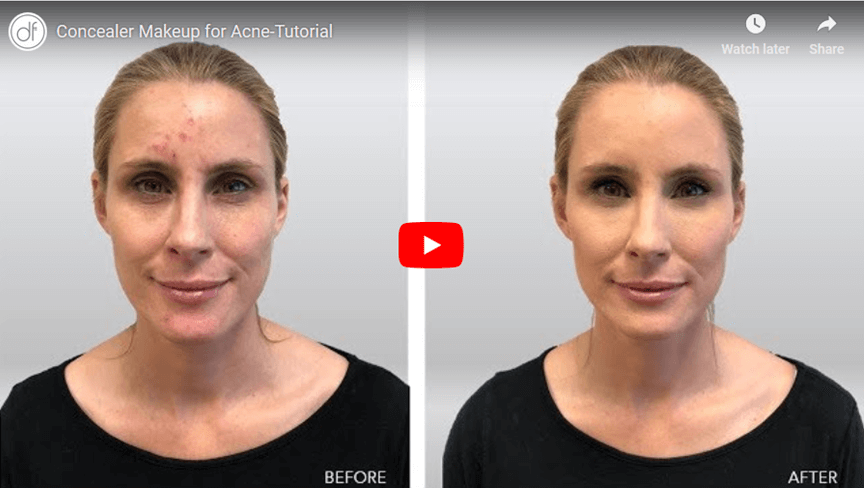 How to hide redness on face without makeup
If you have recurring redness there are a few things you can do outside of makeup to solve the problem.
Laser: if you have broken capillaries or capillaries that are close to the skin, the best way to remove them is by laser. Check with your dermatologist for details.
Moisturizer: as we mentioned above, moisturizer is very important. Not only does it restore moisture to the skin, it forms a protective barrier against the elements and irritants.
Review your skin care regimen: make sure that you are not over-exfoliating- this will traumatize the  blood vessels and make them more visible.
Check ingredients: "Many foaming cleansers are formulated with ingredients like sodium lauryl sulfate, sodium laureth sulfate, or ammonium laureth sulfate. These are surfactants used to cut oil from the skin, but they are particularly harsh and will strip skin of its water and oils, leaving it feeling tight and more irritated," says Karen Hammerman, a New York City dermatologist. "A good rule of thumb: more lather, more drying. Always use a sulfate-free cleanser that won't dry out skin. More specifically, look for cleansers with hydrating and soothing properties, such as those containing allantoin. I recommend the Dove White Beauty Bar."
Diet: Many foods and drinks can trigger the rosacea inflammatory response. Avoid: spicy food, alcohol and hot coffee or tea, which can dilate blood vessels and contribute to facial redness, citrus fruits, sugars/starches, spices, beef and shellfish.
Celebs with Rosacea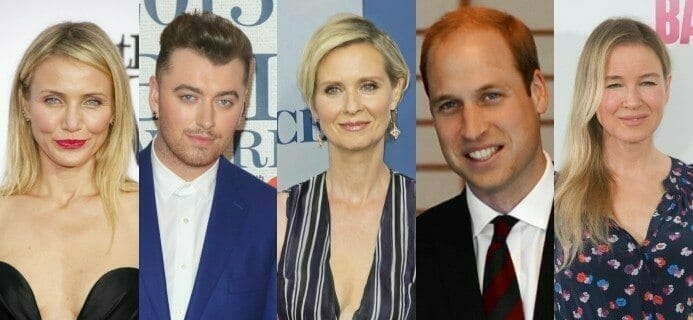 DERMAFLAGE IS THE LEADING BRAND IN CONCEALMENT