Looking for tattoo cover up ideas? Here they are…
Tattoos are cool. Until they're not… and you need to cover them up. Maybe you love your ink but need to hide it when you meet the conservative prospective in-laws? Maybe you got an awesome tattoo on spring break that isn't so awesome anymore. Whether you are covering tattoos for work, looking for a quick finger tattoo cover up or you need wrist tattoo cover up we've done the research and have compiled the best tattoo cover up ideas. Maybe you want a cost effective permanent tattoo cover up or you're looking for makeup to cover tattoos that actually works, read on for good cover up tattoos ideas.
How to Cover Up a Tattoo
If you're not ready to take the expensive laser removal route there are really only 3 ways for successful tattoo cover up: 1. Clothing (obvious) 2. A new tattoo to correct an old one 3. Concealer that covers tattoos.
Makeup would be a simple solution if it looked natural and stayed in place but unfortunately most of the brands out there require so many layers that to cover up tattoos on an arm just becomes an expensive mess that rubs off in an hour. On top of that, getting an exact shade match is tough because the skin is not just one color, if you look closely you will see that its made up of a spectrum of tones and speckles. This is why when you need to do a big tattoo cover up on the arm it looks like a big opaque patch on the skin, making it obvious that you have makeup on.
But fear not. We have a few easy tips for easy and effective tattoo cover using makeup.
Tattoo Cover Up Makeup
The first thing to look for is waterproof tattoo cover up that comes in a wheel or a palette so that you can mix the colors to get a perfect match to your skin. Foundation that covers tattoos are typically only waterproof if you add a setting powder or spray which adds additional expense and multiple steps. You want one that is waterproof, dries on its own and doesn't rub off easily. Also, the best makeup to cover tattoos is very pigmented so a little bit goes a long way, if you have to add a lot of layers to get the coverage its not pigmented enough and you'll find out you run out of it quickly.
Is it easy to cover up a tattoo?
3 simple steps- how to cover a tattoo:
The pro makeup artists block out the dark color with red first
Layer on a highly pigmented transfer and waterproof tattoo cover up, allowing time for each layer to dry

Stipple complimentary skin tones to break up the color for a natural finish. Then add setting powder or spray if needed.


Makeup to Cover Tattoos: Popular Brands
What to use to cover up a tattoo? What concealer covers tattoos the best?
Don't try to cover up a tattoo with run of the mill makeup from the drug store, you'll be sorely disappointed. You won't find one that is pigmented enough or waterproof- it will just smudge off. Here's a list of the most popular tattoo concealer makeup brands:
Dermaflage tattoo cover up makeup waterproof
Kat Von D Tattoo cover up
Dermablend tattoo cover
Dermacol tattoo cover up
Sleeves to Cover Tattoos
If makeup is not your thing, you might want to consider a tattoo sleeve. They are inexpensive and an easy way to conceal tattoos, especially if you have a large area to cover. They typically range from $8-$10 and while they certainly don't look discrete, they do get the job done.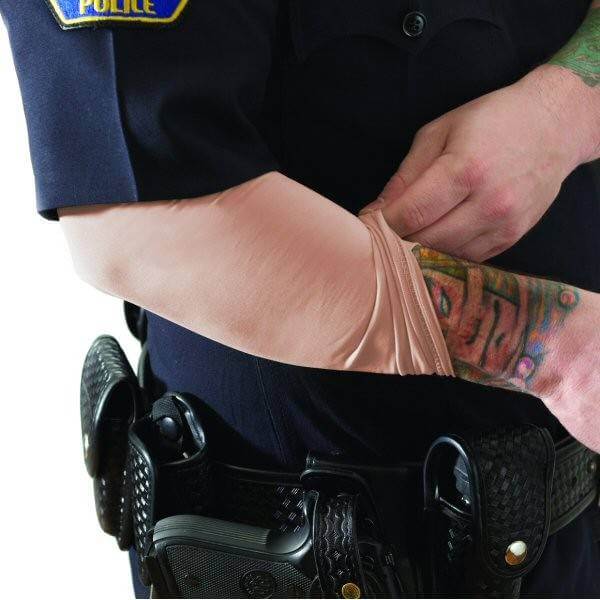 FAQs about how to cover up a tattoo
At Dermaflage, we are the makeup concealment experts. As such, we don't know too much about tattoo cover using another tattoo. But we did some research for you:

Cover up tattoos on arm