CLICK HERE to learn more about the Dermaflage Color Corrector
How to Apply Color Correcting Concealer
Believe it or not, putting green concealer on your zits will hide them. You've probably heard about the color correcting concealer trend by now. The bright colored concealer palettes are available everywhere; from your local drug store, the isles in Sephora and listed on Amazon. But unless you have watched a beauty tutorial on YouTube, you may not know what the color corrector craze is about or how this must-have beauty product can help just about everyone look their best.
You are missing out on this simple trick if you are unsure how to use color correcting concealer. It's a simple matter of color theory, a concept professional makeup artists use everyday. A quick education can get you on your way to a flawless complexion using a color correcting concealer in minutes.
How does Color Correcting Concealer Work?
Beauty is art
To understand how color correcting concealer works, you need to be introduced to the color wheel. Colors directly opposite one another on the wheel cancel each other out. Thus, green cancels out red- put green over redness on your face and the two will neutralize one another, appearing neither green nor red. Green concealer cancels out red zits, purple concealer minimizes yellow spots, and orange/yellow concealer takes care of blue/purple dark circles. When you add these colors to your makeup routine, you get more out of your regular concealer!

The Color Correcting Concealer Colors
Purple
Brighten the appearance of yellow undertones and sallowness on light to medium skin tones with a lavender-colored concealer. When worn underneath a concealer in your regular tone, these pastel shades can help to create a more radiant-looking complexion.
Peach
Mask the appearance of pesky dark circles and dark spots on darker skin tones with a peach concealer or orange-hued color correcting concealer. Note that there is some different shades in this color in the color correcting concealer sets. Pink concealer is best for people with lighter skin tones who have dark circles under their eyes. Pink concealer is usually salmon or peach in tone, which is created from a mix of red, orange, and yellow hues. Since these colors are opposite from blue, green, and purple on the wheel, this corrector is best for hiding dark eye circles on lighter skin tones. Orange is opposite from blue. If you have darker skin with blue dark circles, orange will work to help conceal the uneven undertones.
Green
Covering up breakouts and redness is a challenge, but luckily, with a green-colored color correcting concealer, it is not an impossible task. Camouflage red-hued breakouts, blemishes, broken blood vessels, and all over redness with a green concealer. If you have rosacea, a color correcting green primer will help hide unwanted redness and give you an even base for applying foundation.
Yellow
Yellow concealer can be used to cover up anything that's purple in tone. Bruises, veins, and under eye circles can be hidden with a yellow corrector concealer.
Now you know how to use color correcting concealer! There's really not much to it- it is as simple as it sounds.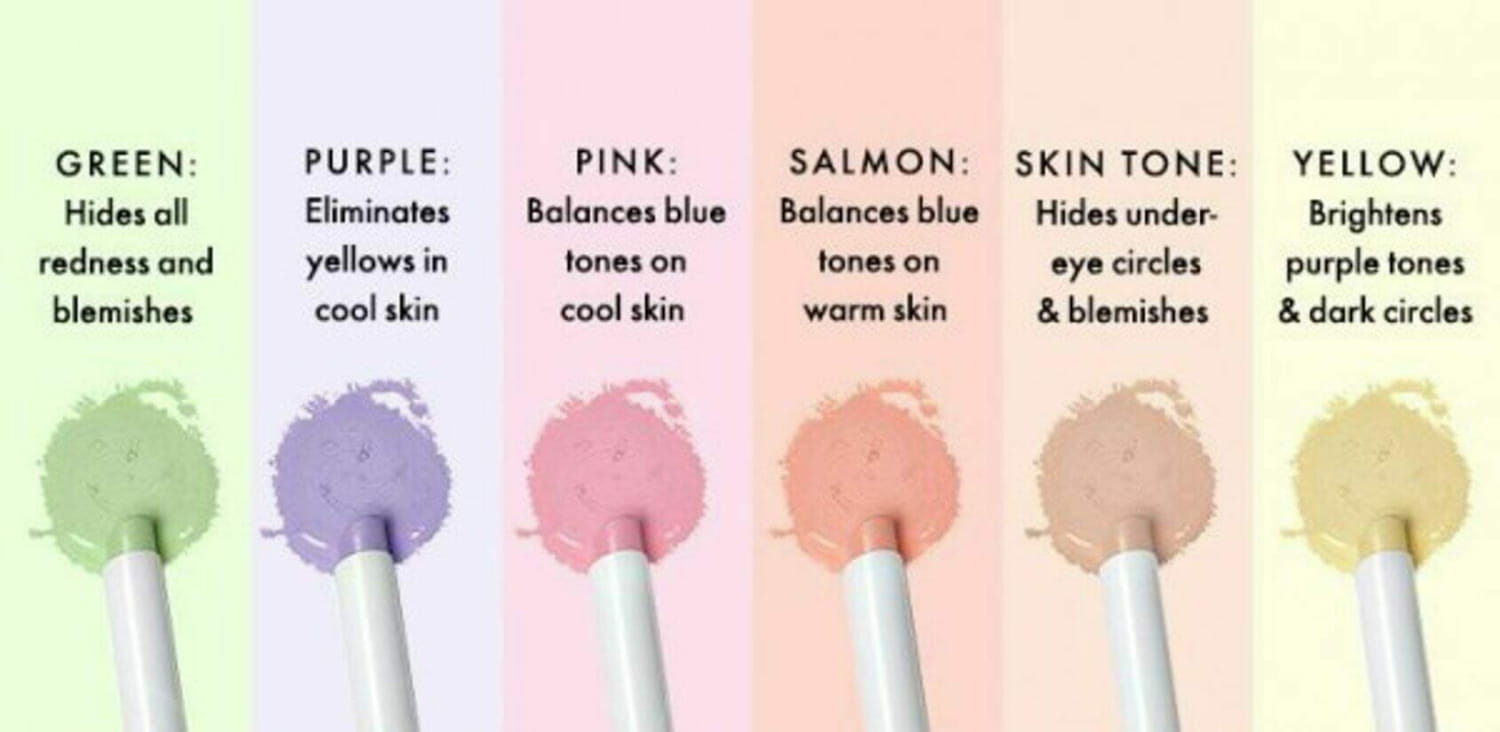 Graphic Credit: www.ivy.edu.au/blog
Color Correcting Concealer Application Tips
Many of these may seem self-evident, but we think we should state them anyway. Color correcting is amazing, but as long as a few simple guidelines are followed!
Don't use colors that you don't need! Remember, this is a spot treatment concealer meant for heavy pigmentation that can't be covered with your normal makeup.
Choose the right hues for your skin. Also, take note of the tones that are used for light tones and those that are best for darker tones.
Don't use too much! Use it on the spots that need it, not all over your face. Just a little bit will do the trick – use thin layers because the color corrective shade should not show through your foundation.
Color Correction Concealer Makeup is Not Scary!
We hope that this post has helped you to understand how simple color correcting concealer is and how easy it is to add into your everyday makeup routine.
Ready to try it?
Check out our Behind the Scenes Concealment Collection! Used by the top pros in Hollywood