HOW TO COVER A SKIN CANCER SCAR
Cover Skin Cancer Scar. When Scars are Gone, Confidence Returns.
See for yourself why Hollywood's top makeup pros rave about Dermaflage! Our 100% Money-Back Guarantee gives you a hassle-free, risk-free way to try Dermaflage Topical Wrinkle Filler. We offer a full refund on starter kit purchases for any reason and a free color exchange if the shade isn't a perfect match the first time around. Simply return items for a full refund or exchange within 30 days of your order.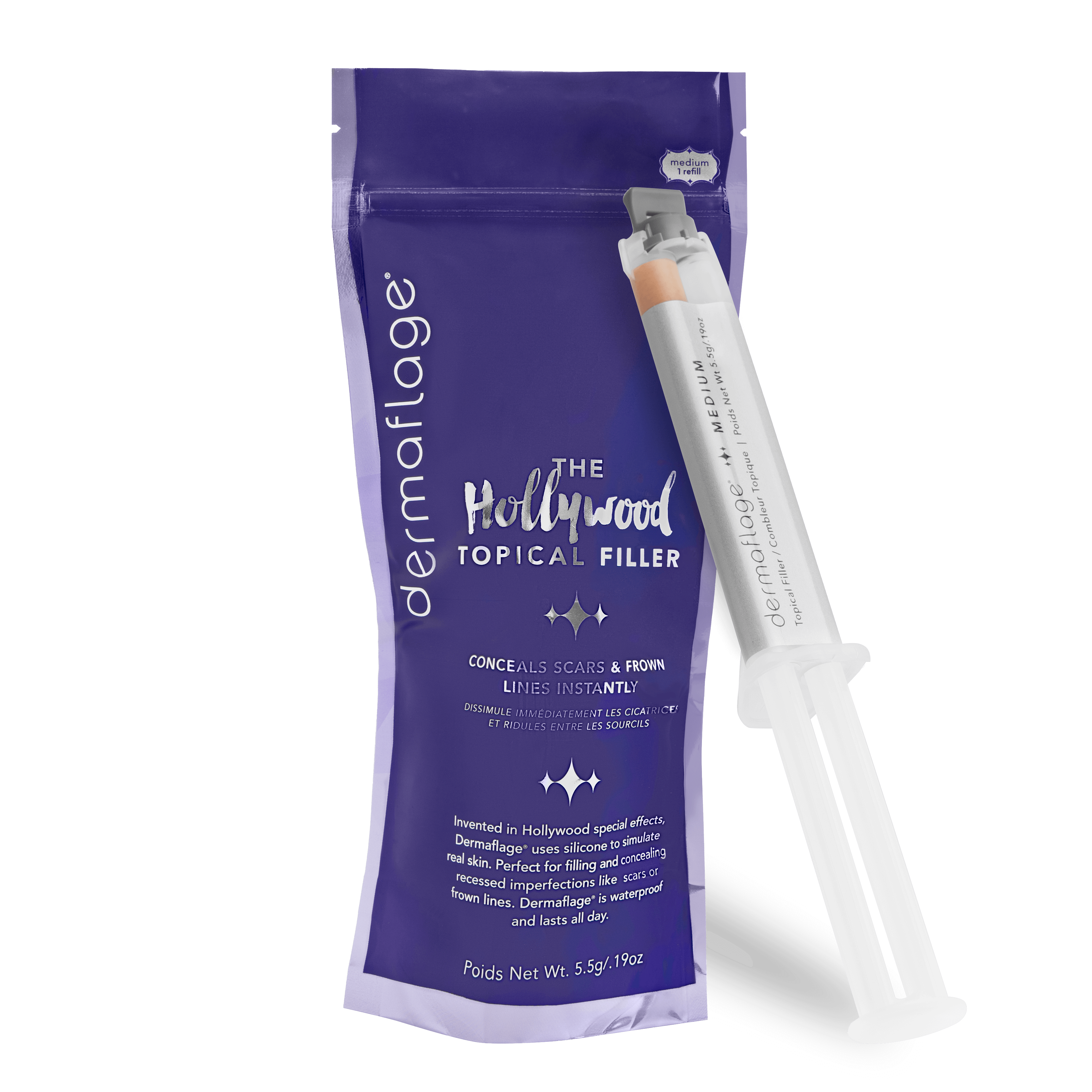 How is Dermaflage Different?
More than makeup. Cover skin cancer scar and improve the appearance of scar.
Invisible Concealer: Made from a medical grade silicone which is tinted to match your skin. Looks, feels and moves like real skin.
Pain Free: Needle-free, affordable, topical scar cover up solution. Applied in minutes for use at-home or on-the-go.
Instant Cover Up: Instantly cover skin cancer scar, including skin graft scar, excision scar, biopsy scar, mohs surgery scar.
Safe: Silicone is the number 1 recommendation for healing scars by dermatologists; Non-Irritating, Non-Allergenic.
Long-Lasting: Waterproof and smudge-proof formula that temporarily "resurfaces" uneven skin like an invisible band aid. Lasts for up to 24 hours.
Dermaflage is silicone that fills in the recessed area to cover skin cancer scar. It starts as a honey-like consistency and finishes to a film that doesn't wear off or smudge, cake, or peel. The final breakthrough step is a special texture pad to give the filled-in area the same look and feel of the skin around it, for virtually undetectable coverage for up to 24 hours.
Created by the Pros in Hollywood
Once an insider secret of Hollywood sets, Dermaflage is a new skin cancer scar concealer and scar cover-up makeup. In under 5 minutes, you can put indented facial scars under cover. No appointments, injections or pro-level makeup artist skills required!
Many people with a skin cancer scar are frustrated by concealers that look fake, or natural scar remedies that take months to show results. Dermaflage is the best scar cover up with at-home convenience and professional-level results.
Want to learn more about scars from the top dermatologists? Click below for our Scars Made Simple E-book and learn how to heal, treat and hide scars.
Doctors Recommend Dermaflage
Is a Skin Cancer Scar Holding You Back? At Dermaflage, we understand scars can affect your self-esteem.
Your scars may also be a permanent reminder of experiences you would rather forget, so you'll try anything that promises to get rid of them. It may be tempting to put your life on hold while you wait for scar treatments to work. At Dermaflage, we believe our products should inspire you and empower you to live your best life today. Everything we do is guided by our mission to help you feel great again. That's why we developed Dermaflage, the revolutionary scar cover up that instantly creates the look of smooth, flawless skin so you can feel confident and get back to living your life.
Anybody who has ever felt self conscious about a skin cancer scar should try Dermaflage. First used on a news anchor who had a skin cancer scar on his nose, it is now available to consumers.
We know how you feel and want you to regain your confidence. Whether it is skin cancer scars, an acne scar, or a face scar from an accident, we want you to feel like yourself again. You have nothing to lose – We offer a 100% money back guarantee and a free color exchange.
"I wanted to tell how wonderful dermaflage works!!! I had a spot on my face that was checked out for four years until they discovered it was skin cancer. I have a scar from under my eye to my chin, it is located on my cheek. I have tried several different products/makeup but nothing works as great as dermaflage. Dermaflage has given me my self esteem back!!" –Theresa Horton